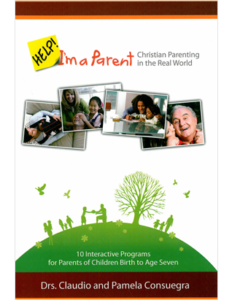 In a national survey of the state of families in America (Bowman, 2012), parents reportedly believe that raising children today is more complicated than it used to be. Along with that, most perceived that the quality of American family life was declining. In addition, 55% of the parents surveyed expressed a concern that they were not doing a very good job of parenting.
In essence, the study concluded that, "for today's mothers and fathers, there is no clear map that charts the path for nurturing the next generation of adults." (Bowman, 2012, page 10)
We bring you good news.  There is a map! And, that map that charts the path of parenting for us is the word of God.  The principles of parenting in scripture are timeless.
The purpose of this resource, Help, I'm a Parent! Christian Parenting in the Real World, is to inspire and encourage you, as parents, on your journey to be the disciple-makers of your children. You will be motivated to take up the exciting challenge and blessings of parenthood.  We invite you to journey with us as we explore your God-given role of parenting.
About the Authors
Drs. Claudio and Pamela Consuegra serve as the Directors of Family Ministries for the North American Division of Seventh-day Adventists. Claudio holds a Bachelors degree in Theology, a Masters degree in Counseling Psychology, and a Doctor of Ministry degree in the area of Family Ministries, and Pamela holds a PhD in Educational Leadership.
As published authors, Claudio and Pamela have written many articles on marriage and family issues for various publications, a few of which include the Adventist Review, Message Magazine, Signs, and Mid-America Union's Outlook magazine.  Claudio also authored a Dictionary of Religious and Theological Terms in Spanish and together with Pamela co-authored a baptismal preparation book, entitled, "Making Jesus my Best Friend" for children ages 8-10. The book has already been published in English and translated into Spanish, and Romanian.  For several years, Claudio and Pamela hosted the weekly, live, call-in radio program Love for a Lifetime on Life Talk radio and have appeared in several television shows.  They travel extensively, both national and internationally, conducting training events, marriage retreats, parenting workshops, and seminars relating to various family life issues.
References
Bowman, Carl D. 2012.  Culture of American Families: A National Survey. Institute for Advanced Studies in Culture. University of Virginia. Charlottesville, Virginia.
---